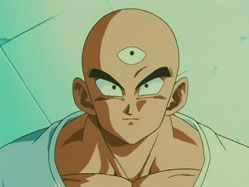 Ten Shin Han is the most advanced disciple of Tsuru Tsenin, and appears in Dragon Ball, accompanied by Chaoz (the best friend of him, and second disciple of Tsuru).
Due to some little honorable lessons, they both live stealing and swindleing people, using a flying pig to attack villages, to be contracted to defeat the monster.
Ten Shin Han objective is to surpass the skill and abilites of Tao Pai Pai, who is the brother of his master, and reach the title of the best...